These sturdy sawhorses will carry whatever you put on them, whether it's a block of marble or an engine block. Each horse weighs about 60 pounds.
Pair of sawhorses: $400
Functional, durable, elegant. These woodsheds will last a good long time and will be a pleasure to look at. Standard design includes a sturdy timber-framed floor. The floor sits on stone or concrete footings. Five-rib metal roofing.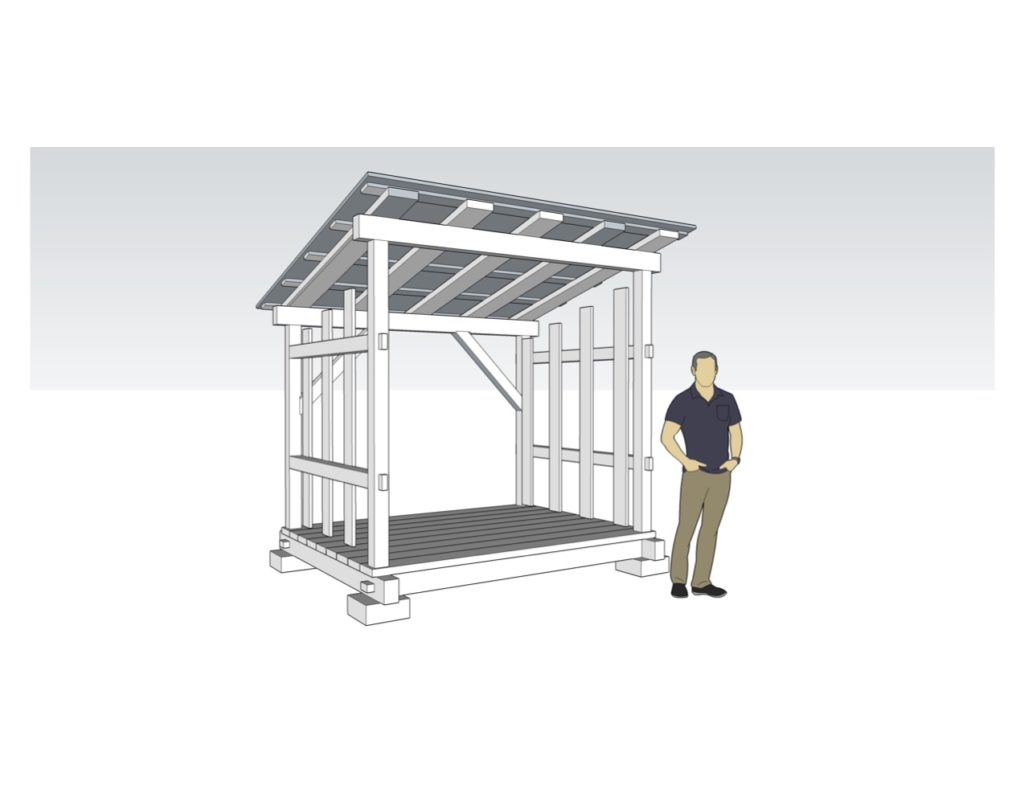 The footprint of the tiny house woodshed is 6 feet by 8 feet. If you stack wood 6 feet high, it will hold about 2 cords.
Tiny house woodshed: $2350
The footprint of the medium house woodshed is 7 feet by 10 feet. If you stack wood 6 feet high, it will hold about 3 cords. (This design includes a small amount of hardware to allow the use of smaller timbers for posts.)
Medium house woodshed: $3450
Our biggest. The footprint of the big house woodshed is 8 feet by 12 feet. If you stack wood 6 feet high, it will hold about 4 cords.
Big house woodshed: $4550

You've heard of the tiny house? Well, here's the tiny barn. High-quality natural materials, solidly constructed, and big enough for all kinds of projects and uses. The single-bay tiny barn is 8 feet by 12 feet. The double-bay barn is 12 feet by 20 feet. Made with timber-frame floor system, plank floor, and rough-sawn board siding and roof sheathing. Standing seam metal roofing. Call us to discuss!   
Simple, sturdy, small. This design is all about economy. The use of a single metal tension rod at the plate level allows the use of smaller dimension timbers. 10/12 roof pitch leaves room for loft storage. Add a window and make it a summer guest cabin or studio.
This design is adapted from the frame detailed in Jack Sobon's book Timber Frame Construction. A footprint of 12 by 20 gives 240 square feet, and a low half-loft can easily be added. Short knee walls and a 12/12 roof pitch offer lots of space in the loft. A person door and/or sliding door can be added on the gable end or along a long wall.
Keep the snow and ice off your rig with a carport. Hang a canoe from the rafters. Store tools and other gear out of the rain. This design borrows from the Japanese timber-framing tradition, using a second horizontal in the long direction rather than diagonal bracing. Design also includes concealed steel angle brackets where the posts join the plates. Clear opening is 9 feet wide and 8 feet high. Overall covered area is 14 feet by 18 feet. 3/12 roof pitch minimizes wind-blown snow and rain. Standing seam metal roofing is ready for solar panels. Footing options depend on the ground at your site. Call us to discuss! (Final engineering pending.)
Wall Tent Woodworks
License #146991
907-750-5420
info@walltentwoodworks.com
1495 Whistling Swan Drive
Fairbanks, AK 99712